Many in the bigfoot world may be questioning why we are dedicating a web page to Ray Wallace, and, that's a fair question. It has been claimed by family members that he did many of the fake footprints that were seen in the Washington area and it appears that they are correct. Many of the prints that Ray faked could've been seen and uncovered by a 3rd grader. Many were huge and didn't look real. There is another side of Ray that many do not know and NABS will uncover that in the weeks to come.

When NABS purchased the Ray Crowe research we also received hundreds and hundreds of pages of letters from almost every bigfoot researcher in the world. We took those letters and read every page, some were quite humorous, some were destructive and tried to berate other researchers and some were very revealing.

Ray Wallace was a very intelligent man. He understood that Native Americans had knowledge about specific activity in their regions that the white man did not know. Ray made friend with the natives and much of the information he received is in his letters to Mr. Crowe. Ray claimed to have first hand knowledge about bigfoot and claimed many sightings. Once you read some of the letters you can tell that Mr. Wallace obtained some information about bigfoot that was absolutely accurate and not widely know in the 1950's- 1980's. It is unknown how Mr. Wallace obtained the information about behavior, locations and food source, but, he either was a first hand witness or hand very valuable contacts in the Native American community.

We won't publish personal thoughts or concerns between Mr. Wallace and Mr. Crowe but we will publish many of the letters that are quite revealing and add to the research behind bigfoot.

Ray Wallace Biography;
Ray was born on April 21, 1918 in Clarksdale, Missouri. He had three (Wilbur, Les and Dale) brothers that he later went into business. He moved to the western United States with his parents when he was young and they settled in Longview, Washington near the Cowlitz Indian Reservation. This is where Ray learned to listen and relate with Native Americans. He even writes about cutting school and going hunting with his Native America friends.


Later in life Ray started a logging and road building company, Ray L. Wallace Construction. His company contracted with government agencies and other contractors to build logging roads that went deep into forests that had never been touched. Later in his life Ray also had an oil drilling business that did fairly well. By pure coincidence, Ray's was one of the first companies to go deep into the Mount St. Helens area and regions in Northern California. There has been much written about Ray working in the Bluff Creek Area, this is not true. Ray bonded the road building company (Jerry Crew) that worked that area for the primary contractor, Block and Company, Jerry Crew actually did the work. Ray was in the general area doing other work in Eureka and Legget. Ray did spend significant time in the Bluff Creek area with people that were searching for bigfoot. Ray claimed he had 300 loggers throughout the Pacific Northwest that routinely called and informed him about bigfoot activity in different areas.

Ray made his home for a majority of his life with his wife Elna in Toledo, Washington in the County of Lewis. Elna and Ray were married for over 50 years. For many years they operated an animal petting zoo on their property. The Wallace's had three sons, Larry, Richard and Michael, 10 grandchildren and six great grandchildren.



Ray died in a nursing home in Centralia, Washington in November 2002 at the age of 84.

Letters
There are some words that you will see consistently in Ray's letters. One word that Native Americans have used for bigfoot is
"Tee See At Coes", or "Teeseeatcoes". An interesting note to NABS researchers is that Ray and the Native Americans call bigfoot "people", not animals, not apes, not gorillas.

You may find that some of the pages of the letters are difficult to read, well, NABS will write a summary of each letter prior to placing it on the page. The letters are not entered in any specific order.
**The below listed note was submitted to the Linda Newton-Perry website. NABS felt that this was important and decided to include it under the Ray Wallace section
"My name is Bud Walton and I worked for Block and Company on the Bluff Creek job in the years of 1957-1959. Bluff Creek is located in Northern California. There has been much rumor about Ray and Wilbur Wallace perpetrating the tracks that were found in 57-58 at the job site.

It has been said Ray Wallace made the tracks Gerry Crew found. This could not be further from the actual truth. When the tracks were made Ray was not in the area. I was one of the lucky ones that saw the tracks before the big craze started.

What people don't know is the tracks of Bigfoot were all over the area surrounding Bluff Creek before the job ever started. Another job that was going on in the same year was Salmon Creek near Horse Creek, California on the Klamath River. There too was found large barefoot tracks on the landings and road. This job was contracted by Pike and Sons out of Langlois,Oregon.

There was no contact between Wallace and Kirk Pike. Pike did not like Wallace because he under bid jobs just to get the contract. My son thought it important to refute the rumors that Wallace was the Bluff Creek Bigfoot. If he was, he had a flying saucer to get around in.
Bud Walton

Lakeview, OR

•••••••••••••••••••••••••••••••••••••••••••••••••••••••••••••••••••••
Letter #1 Dated: October 29, 1992

Highlights

Page 1; Writes about his relationships with old Indian Chiefs and there stories about what they call "big white birds."

Page 2; States that the birds drop out of the sky and have for over 300 years. They wear silver colored suits and speak a different language. They have a blue light that can stop all kinds of animals.
***NABS researchers have been told very similar stories by Native American groups who they have interviewed. We were not asking about UFO's, they were brought up in conversations by them during our discussions regarding bigfoot.

Page 3; Two different size people come in the white birds. Little people come in small birds and big people come in big birds. The birds do not have wings, they go straight up and straight down.

Page 4; The chiefs describe Teeseeatcoes as being very powerful people. They have powerful lights that are the color of wild huckleberries. There blue light paralyzes wild animals. A friend observes a UFO.

Page 5; Animals are paralyzed under the lights of the UFO as they hover over them.

Page 6; Bill Gottfried and his assistant were working for Weyerhauser near Mt. St. Helens. A UFO flew above them and lit up a 40 acre area.

Page 6; Bill told his boss what happened, boss didn't believe him, he quit after 20 years on the job.

Page 7; Ray states that maybe our government is right, maybe the Teeseeatcoes are being let out of flying saucers. Gives address for Robert Griffle.

Page 11; Old Indian Chiefs have stated that the Teeseeatcoes have carried away many young girls and they think that the young bigfoot's are half Indian.

Page 13; Giant sized people fishing in the streams west of Mt. St. Helens.

Page 17; Gold nuggets the size of a mans thumb found near Mt. St. Helens in the 1840's.

Page 18; Old Army dog.

Page 22; Ray owns a ranch that sits on an ancient ocean that has significant oil in it. He has drilled a well on the property.

Page 26; Flying Saucers are operated by hydrogen and water and nobody can hear them. He talks about that he is probably the one person who has come face to face with a bigfoot and lived to talk about it. **Does this imply that a bigfoot will come someone it comes face to face with?
**The information about UFO's is not meant to sensationalize the topic or to put emphasis on it as an answer to this mystery. NABS believes in giving the public the information and allowing them to develop their own conclusions. This information has been out in the public domain for decades and it would be censorship to completely ignore the topic.
Note regarding first letter. MUFON is the Mutual UFO Network. They have many high level scientists that work with them and are extremley well organized. If you are looking for scientists to be involved in an evolving field, this is it. One of NABS's readers forwarded the below listed article from their newsletter. It's an interesting addition to what Ray has written. MUFON researchers and bigfoot researchers don't seem to get along. They each think the other topic is a joke and many won't exchange ideas. If you are inclined to learn more about MUFON, here is there link;
Here is the article forwarded by our reader;
242.
Location. Near Tillamook Oregon
Date: September 27 1989
Time: 1620
A woman was alerted by her granddaughter to something unusual outside. She stepped out and was confronted by an object resembling an inverted toy top hovering just above the ground. It was 20 to 30 feet in diameter and had a flat bottom and a bright yellow-white light shining at both ends. The woman approached to within 30 feet of the craft and a door opened revealing a blond human-like entity of average height with fair skin and blue eyes, wearing a silvery coverall. The woman then noticed at a window next to the door a large hairy, Bigfoot type creature apparently seated and only visible from the chest up. The woman stared at the object and beings for a few minutes, and then the object suddenly vanished from plain sight.

Source: Mufon Journal # 264, April 1990
Ray Wallace Letter 1, Page 1 Follows-

Page 2
Page 3
Page 4
Page 5
Page 6
Page 7
Page 8
Page 9
Page 10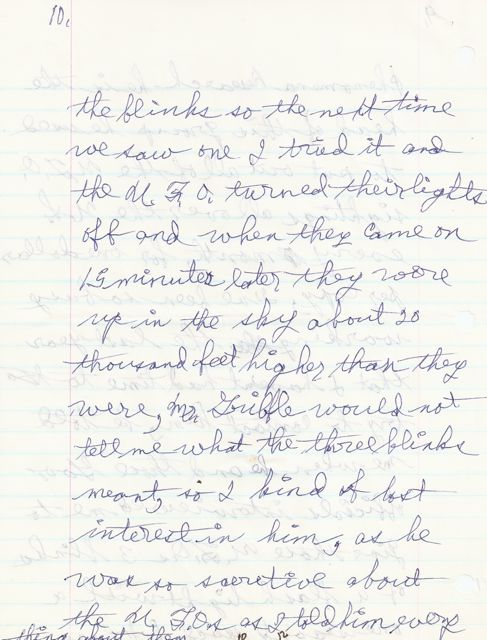 Page 11
Page 12
Page 13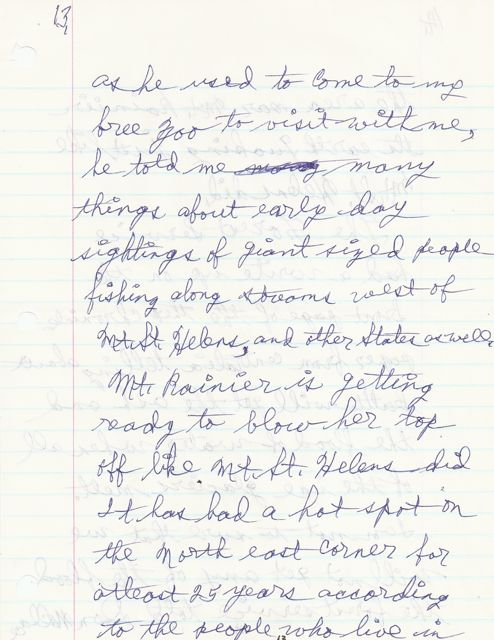 Page 14
Page 15
Page 16
Page 17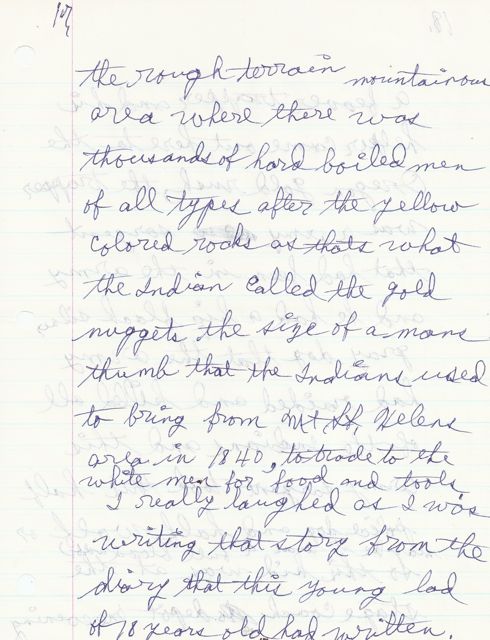 Page 18
Page 19
Page 20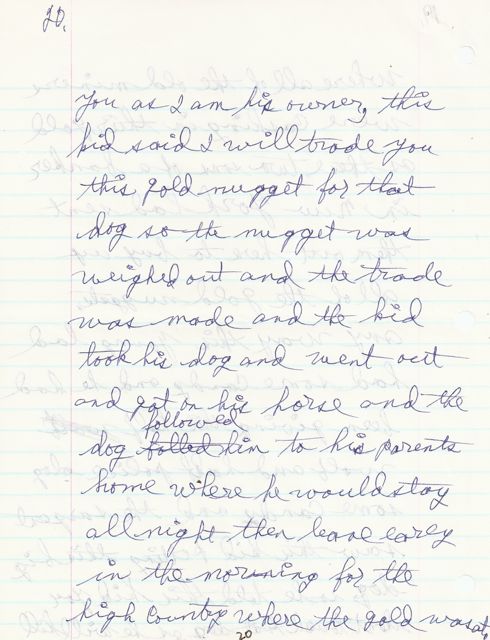 Page 21
Page 22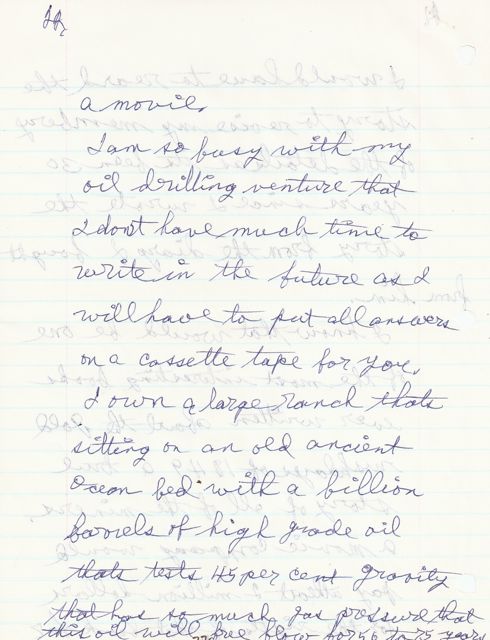 Page 23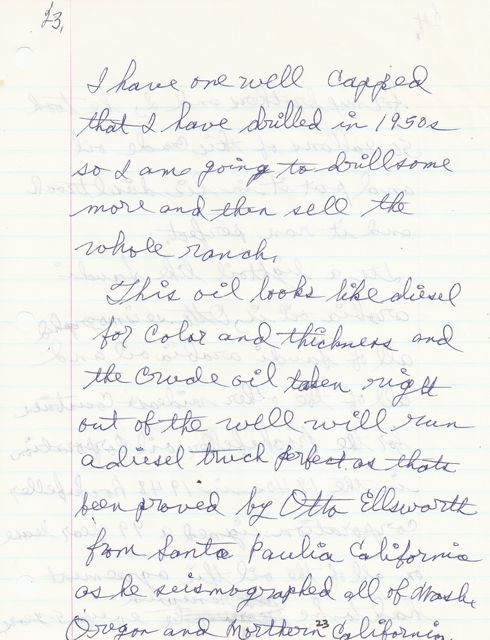 Page 24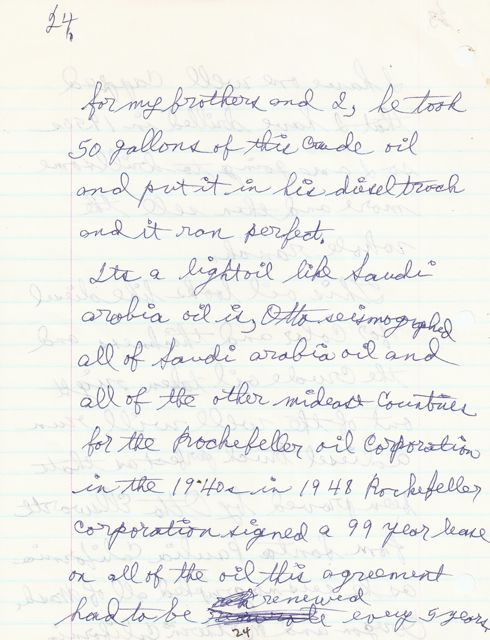 Page 25
Page 26
••••••••••••••••••••••••••••••••••••••••••••••••••••••••••••••••••••••••••••••••••••••••••••••••••••••••••••••••••••••••••••••••••••••••••••••••••••••••••••
Ray Wallace Letter #2

Since the first day that NABS was established we have had discussions about the Patterson Gimlin film. Much of the discussion centers upon the luck they had in observing the bipeds for the time span they filmed. We had always felt that when Patterson and Gimlin were on horseback, the horses assisted in masking the human scent and the height off the ground by sitting on the horse assisted in keeping the human scent off the ground. We felt that the best opportunity to observe or catch a bigfoot off guard would be by being on horseback. The other condition where the horse assisted was by a four-legged animal walking a trail versus a two-legged biped. The sound of a horse, deer, elk or other large four-legged mammal walking the trail is much less menacing then a two-legged man. Patterson and Gimlin had many elements on their side the morning the afternoon they rode into Bluff Creek.

In the last several years there has been much discussion about bigfoot and language. NABS has entire web page devoted to language. Ray Wallace writes about bigfoot language on page 9 of this letter. This was quite contrary to popular belief at the time as most felt that bigfoot was an ape.

During our research for Tribal Bigfoot, we found that Syl McCoy and Bob Titmus sat in the tops of many pine trees near Hyampom in an effort to observe a bigfoot. They knew that by sitting in a tree, they would get their scent off the ground and would have a better chance to observe it. Ray describes how this activity can produce results, page 10.

In Tribal Bigfoot Paulides states that bigfoot has a phenomenal sense of smell and backs that up with stories from witnesses. On Page 11 Mr. Wallace claims that bigfoot does have great sense of smell and hearing.

Ray Wallace again shows significant insight and knowledge about how to approach a bigfoot and obtain footage.

The following is a page-by-page rendition of what follows;

Page 1- Ray again calls bigfoot "People". He talks briefly about Jerry Crew.

Page 2- He states that Patterson believes that bigfoot has the mind of a 12 year old. Wallace tells Patterson that bigfoot is much more intelligent then many of the individuals studying it.

Page 3- Small talk about buffaloes.

Page 4- Described how to store apples.

Page 5- Wallace fed bigfoot apples.

Page 6-7- Explains how riding a horse keeps the human scent off the ground.

Page 8- Wallace says that bigfoot is smarter then many humans.

Page 9- Details how he built a 16mm camera in 1953 to catch the bigfoot on film. He goes on to state that the bigfoot (Giant size people) speak a language that others don't understand.

Page 10- Describes how to build a stand in and up in a tree to observe a bigfoot.

Page 11- Ray again says that people call bigfoot animals, but they are not. He states that he has a sense of smell and hearing that can be effective up to 500'.

Page 1
Page 2
Page 3
Page 4
Page 5
Page 6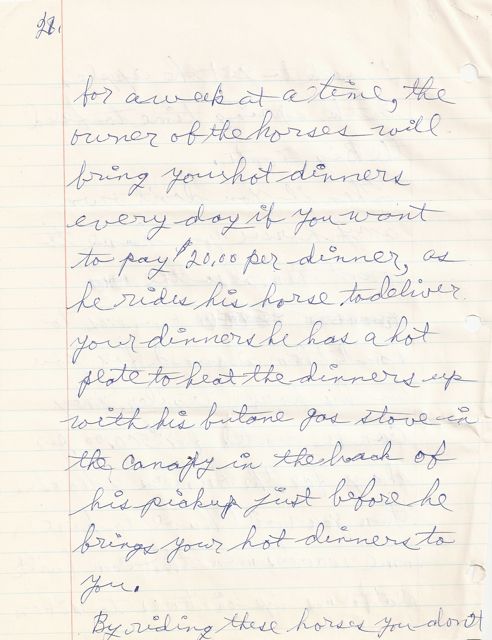 Page 7
Page 8
Page 9
Page 10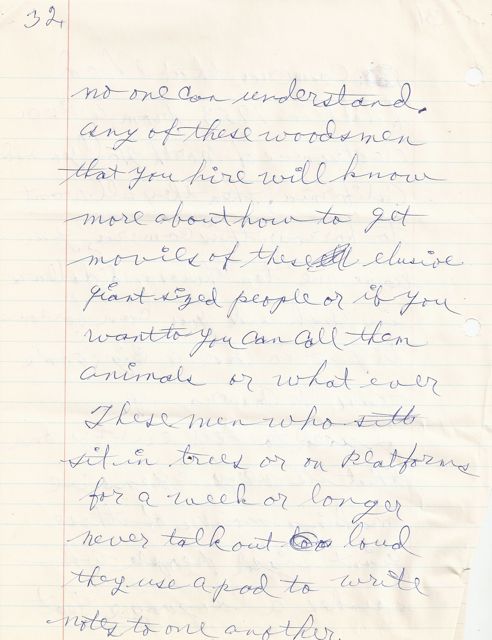 Page 11
Page 12
••••••••••••••••••••••••••••••••••••••••••••••••••••••••••••••••••••••••••••••••••••••••••••••••••••••••••••••••••••••••••••••••••••••••••••••••••••••••••••
Ray Wallace Letter #3
This letter was dated 12/22/97 and sent to Ray Crowe. The first page deals with bigfoot researchers and the question as to how Roger Patterson got the PG film developed so quickly. This exact point is addressed in David Paulides' book, Tribal Bigfoot. In 1997 Wallace knew that the timetable for development of the film was an issue and proposed an idea how RP got it done. The times given by Bob Gimlin for getting the footage, driving to Eureka, getting the film to Washington and showing the footage days later does not make sense,.
Page 2 of the letter talks about a local Hoopa native who was a fern picker in the area. He explains that there was one incident where six bigfoot were killed during a confrontation. He describes a rock throwing incident, something that still occurs today.
Page 3 refers to Roger Patterson's wealthy brother in law (Al D'Atley). Wallace says that he believes that Al helped finance Roger's movie, this is something that many people believe. There have been theories that Roger and the movie were flown from Arcata to Washington to expedite the delivery of the movie and this was supposedly bank rolled by Al.
Page 4 states that Teeseeatcoes (bigfoot) can be found on Notice Creek where they supposedly live in caves. This was rumored in the 1970's and explored extensively by a NABS team four years ago. The area of Notice Creek is NOT, repeat NOT for the casual explorer. This area is extremely rugged and treacherous. If you're group is not in outstanding physical condition, don't go there. The rocks are slippery, you need ropes and advanced climbing skill. We spent 4 days exploring the area and found nothing of value.
Page 6 explains that the reason PG got the footage of the bigfoot at Bluff Creek was because they were on horseback, again, something that David Paulides describes and explains in his two books.
Page 7 states that bigfoot are not dumb animals. Wallace states that they use to live with the indians of the area until they kidnapped an indian girl at a brush dance. This is an interesting statement because David Paulides explains in The Hoopa Project that there were sightings at a brush dance as recent as the last decade.
Page 1
Page 2
Page 3
Page 4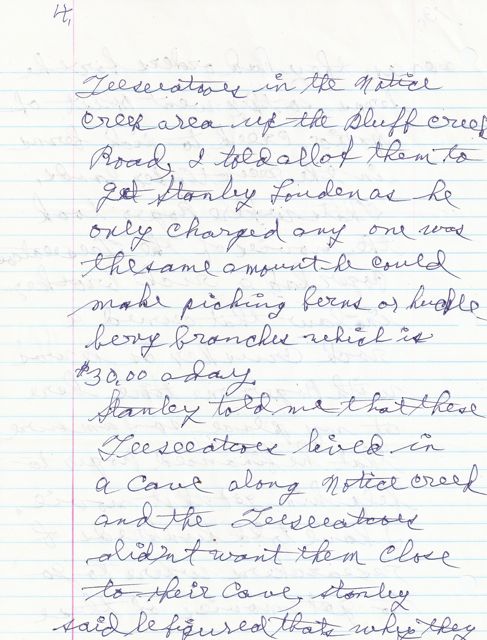 Page 5
Page 6
Page 7
Page 8
•••••••••••••••••••••••••••••••••••••••••••••••••••••••••••••••••••••••••••••••••••••••••••••••••••••••••••••••••••••••••••••••••••••••••••••••••••••
Letter #4- Ray Crowe
NABS must admit that when we reviewed letter #4 there were several aspects of the note that shocked us. Below is a page by page summary of the letter. We have included the actual letter at the end of the summary.
Page 1- Ray states that his company had to move logs over the Indian Reservation (Hoopa) as he went towards Pecwan and attempted to place his logs in the Klamath River.
Page 2- Timber cutters working for Ray made claims that their lunches were being stolen.
Page 3- Ray speaks with Chief Stokes about the theft of the lunches.
Page 4- Tuffy Dowd explains that the Teeseeatcoes are covered with brown fur over their entire body. The young ones are covered by fur that is tan in color.**NABS was in shock when we read this. Four years ago our researchers met a series of witnesses in Del Norte County that had sightings of a tan colored bigfoot described as slight in build and timid. We theorized at that time that this was a young bigfoot that was in a transitional stage in color and build.
Page 5- Statements made that bigfoot does carry away young girls and steal calves for food. There is supposedly a family of bigfoot that live near the headwaters of Blue Creek near Pecwan.
Page 6- Bigfoot throws rocks at miners and kills two.
Page 7- Ray describes the bigfoot as "very smart people". They throw rocks and kill deer and elk.
Page 8- A Teeseeatcoe is seen drinking water at a creek.
Page 9- "The giant sized man looked at him for two seconds and turned around one time and it walked away, it turned its whole body to look back at Hank."
Page 10- There is a story about a night watchman at Bluff Creek that is confronted by a bigfoot.
**The actual letter is printed below.
Page 1
Page 2
Page 3
Page 4
Page 5
Page 6
Page 7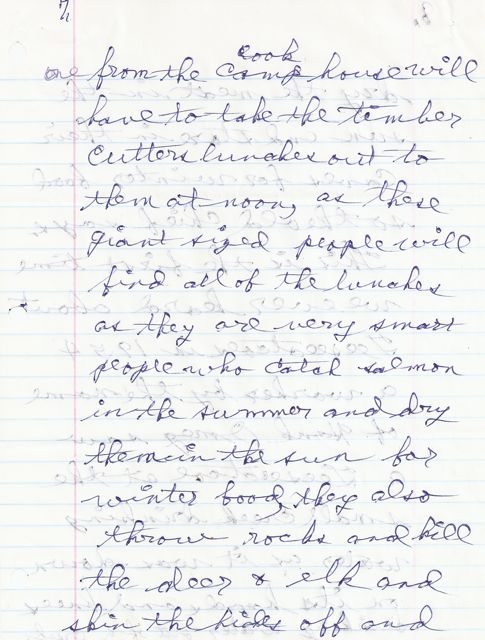 Page 8
Page 9
Page 10
End of letter.
••••••••••••••••••••••••••••••••••••••••••••••••••••••••••••••••••••••••••••••••••••••••••••••••••••••••••••••••••••••••••••••••••••••••••••••••••••••
This is a 16 page letter from Ray Wallace to Ray Crowe. Wallace did an excellent job writing an autobiography of several years of his life. There are several items inside this letter that are quite believable and quite important. Pay special attention to the descriptors utilized for the biped and words utilized to describe language spoken by bigfoot. We can't guarantee that everything Wallace states is truthful but we believe that this man knew more about the biped then a vast majority at the time. His specific insight was probably due to the relationships he developed with the Native Americans in the region. This is a very interesting letter.
Page 1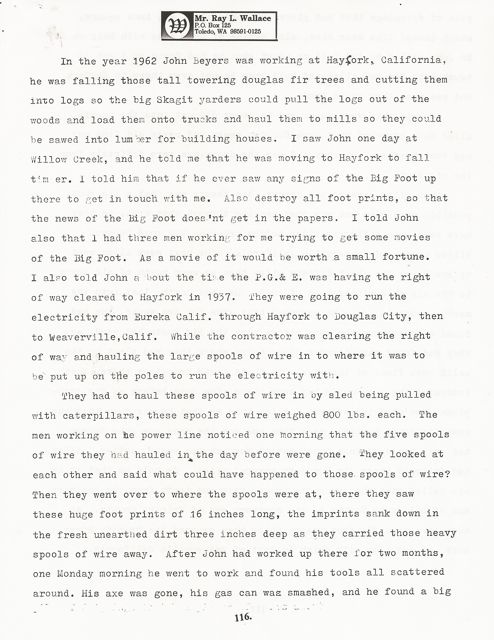 Page 2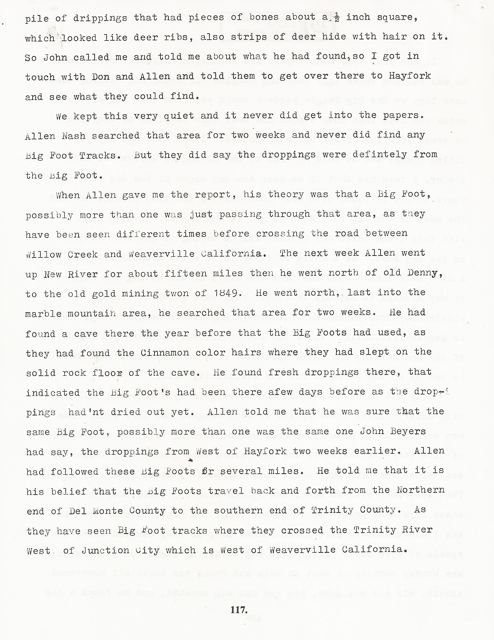 Page 3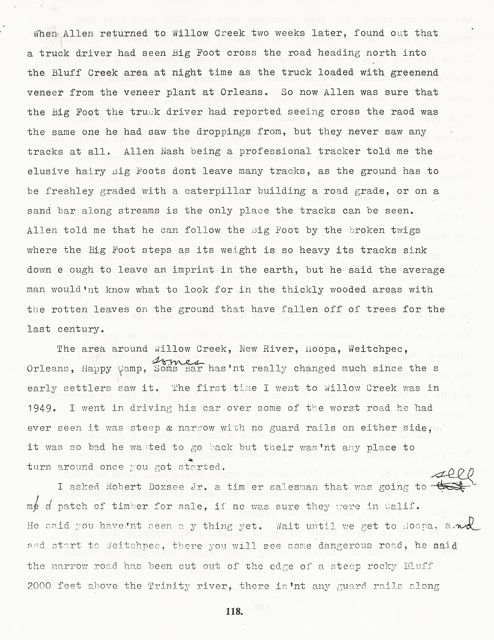 Page 4
Page 5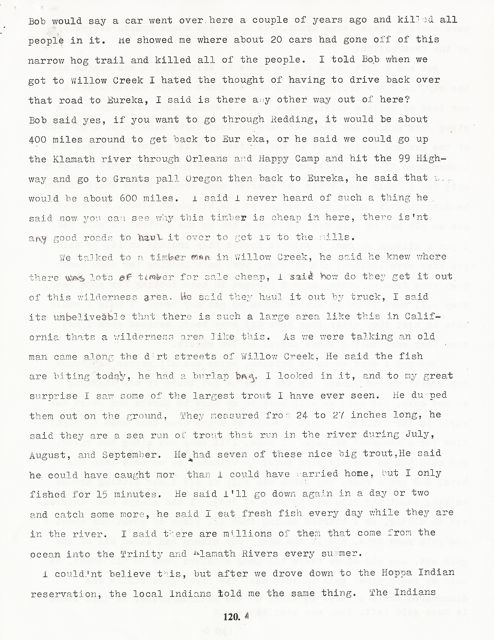 Page 6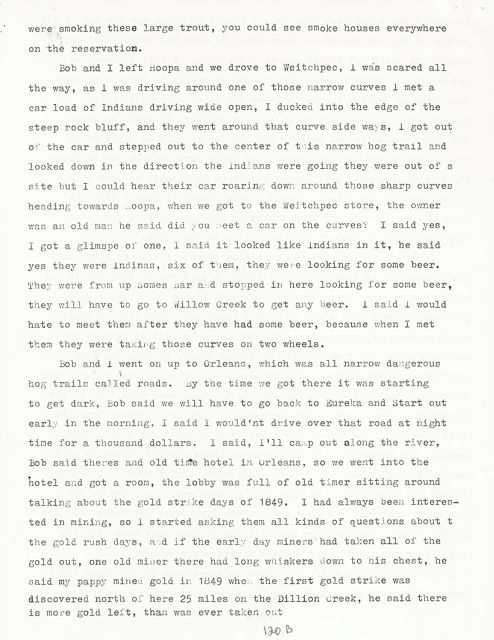 Page 7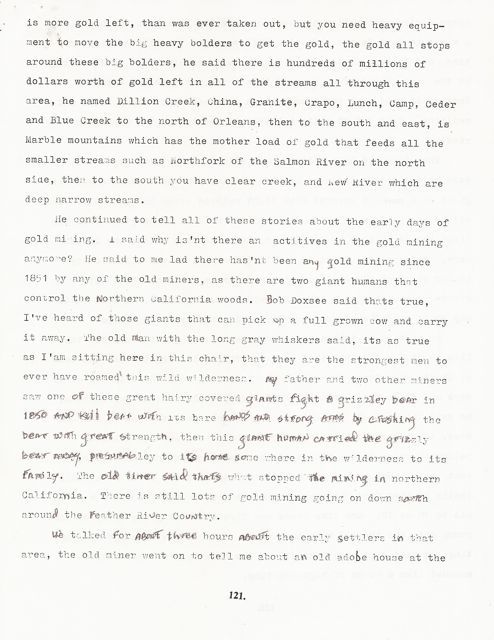 Page 8
Page 9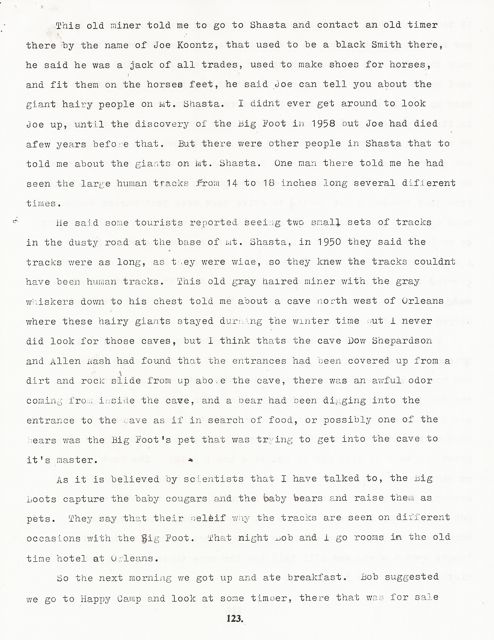 Page 10
Page 11
Page 12
Page 13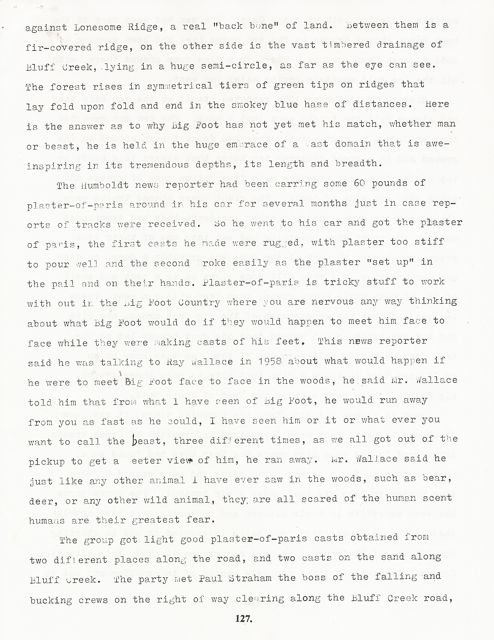 Page 14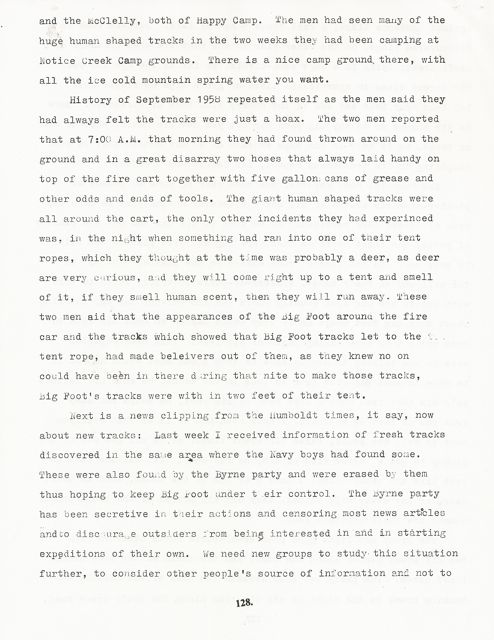 Page 15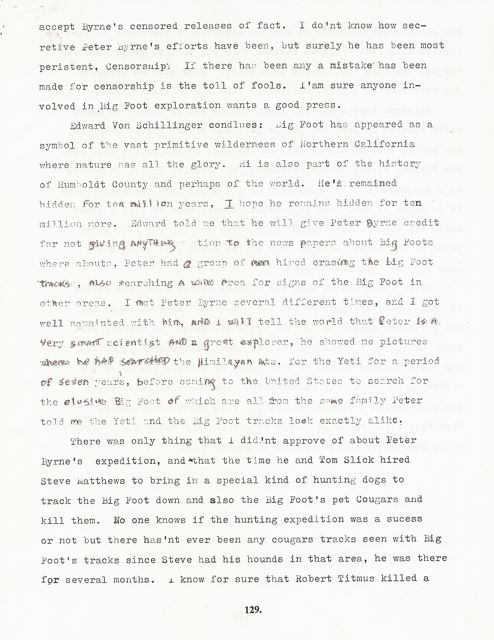 Page 16
•••••••••••••••••••••••••••••••••••••••••••••••••••••••••••••••••••••••••••••••••••••••••••••••••••••••••••••••••••••••••••••••••••••••••••
© 2011 North America Bigfoot Search