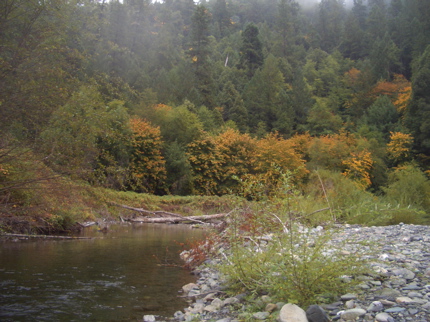 ••••••••••••••••••••••••••••••••••••••••••••••••••••••••••••••••••••••••••••••••••••••••••••••••••••••••••••••••••••••••••••••••••••••••••••••••••••••••••••••••••••••
5/22-NABS Announces New Team Member Rich Germeau-Scroll to Bottom of attached link:http://www.nabigfootsearch.com/nabs_team_members.html
5/20-If you believe that Bigfoot DNA is the only genome having an unknown composition, think again. A recent study reveals that four percent of the Denisovan Genome comes from something unknown, coincidence?.....http://johnhawks.net/weblog/reviews/denisova/biology-of-genomes-pennisi-update-2013.html
/8-New Blog-National Park Service-Beware-http://www.nabigfootsearch.com/bigfootblog.html
5/8-Another bigfoot series is about to come to TV. Don't hold your breath. This is another series that's bound to bring this research arena down another peg.http://exclaim.ca/Reviews/HotDocs/shooting_bigfoot-directed_by_morgan_matthews
5/2-Excellent Article by George Knapp on the state of the UFO world. Read the article and then go back through and remove the word "UFO" and replace it with "bigfoot" or "Bigfoot world" and you'll see a very scary similarity!!! I've always said that there is a reason for this....http://lasvegascitylife.com/sections/opinion/knappster/george-knapp-stop-snark.html
5/1-Scientists Come Out and Support The Bigfoot DNA Study:http://bf-field-journal.blogspot.com/2013/05/scientist-announce-support-for-ketchum.html
5/1-Alaska Bear Attack-Family Lucky to be Alive-http://gma.yahoo.com/blogs/abc-blogs/alaska-man-fights-off-bear-walks-away-minor-100049041.html
4/21-Updated Article about "Missing 411-North America and Beyond"-http://www.mountshastafilm.com/2013/04/20/unexplained-disappearances-in-mt-shasta-updated-april-2013/
4/18-An interesting story of a bigfoot that chases two women in Alaska:http://www.deltadiscovery.com/story/2013/04/17/hairy-man/bigfoot-follows-women-during-night-ride/1093.html
4/15-David Paulides will be on "Unraveling the Secrets" Saturday (4/20), 9pm Pacific Time, Midnight Eastern Time discussing his new book, Missing 411-North America and Beyond:http://www.unravelingthesecrets.com/411nab/
4/8-Blog #185-The Epiphany Video- If there is one blog you need to read, and one video you need to watch, set aside 110 minutes and watch this. Your ideas about life will change.http://www.nabigfootsearch.com/bigfootblog.html
4/7-Creature Weekend- May 3-5, Salt Fork State Park, David Paulides will be presenting-http://www.creatureweekend.com/
4/3-A very good article about Mount Shasta and its relationship with "Missing 411-North America and Beyond." http://www.messagetoeagle.com/oddunexdismtshasta_p1.php
Part 2-http://www.messagetoeagle.com/oddunexdismtshasta_p2.php#.UV8Gg-L2NcE.facebook
3/26- On 3/28 at 12:01am, David Paulides will be on KTKK Radio in Salt Lake discussing "Missing 411", listen live via the net:http://www.k-talk.com/index.php/listen-live/
3/26-New Web Page and article about Bigfoot and Caves-http://www.nabigfootsearch.com/caves--bigfoot.html
3/26-A very good article by Thom Powell regarding Dr, Ketchum's Bigfoot DNA paper-http://www.thomsquatch.com/2013/03/bigfoot-dna-evidence-redux.html
3/26-New Blog-The Human Side of Bigfoot-A Response-http://www.nabigfootsearch.com/bigfootblog.html
3/21-David Paulides' Interview on Whitley Strieber's "Dreamland" Radio Show-http://www.unknowncountry.com/dreamland/next
3/17-Article about David's new book- "Missing 411- North America and Beyond"-http://beforeitsnews.com/paranormal/2013/03/david-paulides-exclusive-on-new-book-in-the-series-missing-411-north-america-beyond-2448988.html
3/16-David Paulides' "Missing 411-North America and Beyond" has just been released. This is the third book in the series and now includes stories from North America and five other countries.http://www.nabigfootsearch.com/missing-411--north-americ.html
3/14- George Knapp has just announced that David Paulides will be on his Coast to Coast Program on March 17 for three hours discussing his "Missing 411" books. David has stated that there will be a major announcement during the show!! Mark your calendars!!
3/14-New Blog- Reading and Understanding-http://www.nabigfootsearch.com/bigfootblog.html
3/11-A Reader sent in this information about Julia Pastrana, We'd like to know how they diagnosed her with hypertrichosis back in the 19th century, we think that was a guess. Note her facial structure, interesting-http://en.wikipedia.org/wiki/Julia_Pastrana
3/1-Good Article that outlines DNA Study-http://www.earthfiles.com/news.php?ID=2070&category=Science
2/28-Is Invisibility Cloaking Possible, the Answer May Surprise You-http://boingboing.net/2013/02/25/invisibility-cloak-demoed-at-t.html
2/26-A Very Good You Tube Explaining how journals refused the Bigfoot DNA Paper and explaining the labs response to an inquiry, also includes an interview with Dr. Ketchum-http://www.youtube.com/watch?v=kkoPIy4mn6A
2/25-New Sighting Report-Texas-http://www.nabigfootsearch.com/Bigfootsightings.html
2/22-Prehistoric Bigfoot Found-http://www.liveleak.com/view?i=182_1261520074
2/19-We are very proud to announce that NABS researcher Scott Carpenter has just released his first book about bigfoot investigations in TN. Scott has developed a unique method of capturing bigfoot on camera and accumulating over 30 specimens that were validated in our recent study as being from bigfoot. Scott is one of the unsung heroes in the bigfoot world that deserves acknowledgement for his success where countless others failed. Here is the link to his new book:http://bf-field-journal.blogspot.com/p/blog-page_19.html
2/19-An interesting angle on the Bigfoot DNA Project by Steve Kulls-http://squatchdetective.wordpress.com/2013/02/19/hufpo-on-the-dna-study-dr-meldum-comments-and-a-response-to-a-comment/
2/14-Good Article about the DNA study-http://countdowntozerotime.org/2013/02/13/dna-report-proves-bigfoot-is-real-say-11-scientists-of-5-year-study/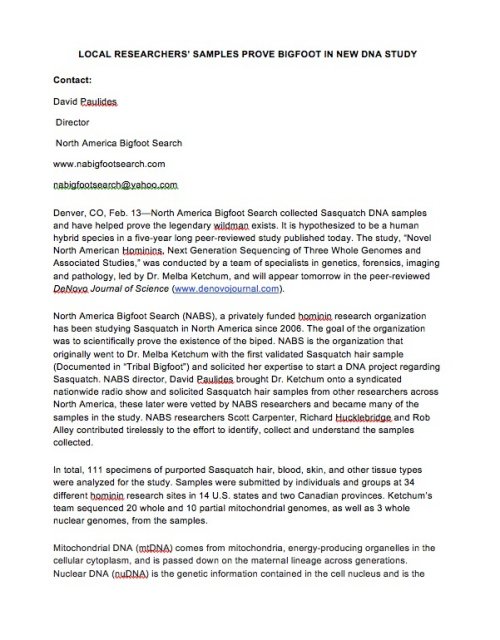 2/8-New Sighting Report-Northern California By Investigator Richard Hucklebridge:http://www.nabigfootsearch.com/Bigfootsightings.html
2/1-Another Revenue Generator for NPS-http://www.dailycamera.com/boulder-county-news/ci_22493964/national-parks-could-get-more-cell-internet-connectivity?source=rss
1/24-Strange Sounds coming from the Swamps Near Pendleton, Oregon, Near the Umatilla Indian Reservation:http://s.oregonlive.com/440OC4i
1/21- New Blog- Clarity-http://www.nabigfootsearch.com/bigfootblog.html
1/13-How the Universe May Work:http://www.huffingtonpost.co.uk/2012/11/27/physicists-universe-giant-brain_n_2196346.html?utm_hp_ref=fb&src=sp&comm_ref=false#sb=1289067,b=facebook
1/12/13-An older but interesting article: http://www.examiner.com/article/he-talks-to-sasquatches-and-aliens-ufo-interview-with-kewaunee-lapseritis
12/27-David Paulides will be presenting evidence associated with his "Missing 411" books and the Bigfoot DNA Project at two different MUFON Meetings in the Los Angeles area. David's books will be sold at the locations and he will be signing, 2/19-MUFON LA in Studio City on 2/19 and MUFON Orange County, 2/20 in Costa Mesa, see link for additional details:http://www.nabigfootsearch.com/upcomingevents.html
12/23-Harvey Pratt and David Paulides will be presenting their bigfoot evidence, sightings, etc from Oklahoma, discussing forensic sketches, bigfoot DNA and relating their findings in David Paulides' books, Missing 411. This will be at the Oklahoma Science Museum (Oklahoma City), main auditorium, January 19, 2013, 3pm-5pm. Both speakers will be signing their books after the event. Come early as seating will be at a premium.http://www.sciencemuseumok.org/contact_us.html
12/23- Starting at 10pm tonight Coast to Coast is hosted by George Knapp. One of his guests is going to be Dr. Melba Ketchum explaining portions of the Bigfoot DNA Project and clearing many of the bogus reports that have existed on the web.http://www.coasttocoastam.com/shows/upcoming
12/11-Could there be a possible South African Bigfoot-type biped?http://www.haxan.com/portfolio/freakylinks/WWWFRE~1.COM/FREAKO~1/TAILS_~1/AFRICA~1.HTM
12/8-MK Davis responds to an analysts opinion that a bulge on the right leg of the Patterson Gimlin bigfoot is a "Film Artifact," meaning that it was a mark on the film. As a group and researcher that personally recieved original plates from Mrs. Patterson, plates that are extremely clear and do show the bulge (herniation), a bulge visible on multiple frames. MK does a fantastic job dispelling this theory that it's a film artifact:http://www.youtube.com/watch?v=bAnBbdkGfOI&feature=youtu.be
12/7-Good Article by Thom Powell Regarding the Falcon Project: http://www.thomsquatch.com/
12/6-George Knapp Article about the Bigfoot DNA Project-http://lasvegascitylife.com/sections/opinion/knappster/george-knapp-i'm-dreaming-bigfoot-christmas.html
12/6-Just for clarity, Igor Bourtsev made a public statement this morning that the Bigfoot DNA Study is at a Russian Journal and presently under review, he expects news quickly.
12/5-Good Article About the Origin of Bigfoot-http://voices.yahoo.com/sasquatch-genesis-origin-bigfoot-11922139.html
11/29-Dr. Ketchum on GMA Duscussing Bigfoot DNA-http://gma.yahoo.com/video/gma-bigfoot-dna-study-claims-080000943.html
••••••••••••••••••••••••••••••••••••••••••••••••••••••••••••••••••••••••••••••••••••••••••••••••••••••••••••••••••••••••••••••••••••••••••••••••••••••••••••••••••••••
11/28-Television Interview with Dr. Ketchum Regarding the DNA Project- http://www.click2houston.com/news/Does-Bigfoot-have-human-DNA/-/1735978/17568802/-/5pkab/-/index.html
••••••••••••••••••••••••••••••••••••••••••••••••••••••••••••••••••••••••••••••••••••••••••••••••••••••••••••••••••••••••••••••••••••••••••••••••••••••••••••••••••••••
11/26-What Confirmation of Bigfoot's Existence Means-By Whitley Strieber-http://www.unknowncountry.com/journal/confirmation-bigfoot-and-danger-left-hand-path
••••••••••••••••••••••••••••••••••••••••••••••••••••••••••••••••••••••••••••••••••••••••••••••••••••••••••••••••••••••••••••••••••••••••••••••••••••••••••••••••••••••
The culmination of our five year study!!!
FOR IMMEDIATE RELEASE

'BIGFOOT' DNA SEQUENCED IN UPCOMING GENETICS STUDY

Five-Year Genome Study Yields Evidence of Homo sapiens/Unknown Hominin Hybrid Species in North America

Contact: Robin Lynne, media@dnadiagnostics.com, 231.622.5362

DALLAS, Nov. 24--A team of scientists can verify that their 5-year long DNA study, currently under peer-review, confirms the existence of a novel hominin hybrid species, commonly called "Bigfoot" or "Sasquatch," living in North America. Researchers' extensive DNA sequencing suggests that the legendary Sasquatch is a human relative that arose approximately 15,000 years ago as a hybrid cross of modern Homo sapiens with an unknown primate species.

The study was conducted by a team of experts in genetics, forensics, imaging and pathology, led by Dr. Melba S. Ketchum of Nacogdoches, TX. In response to recent interest in the study, Dr. Ketchum can confirm that her team has sequenced 3 complete Sasquatch nuclear genomes and determined the species is a human hybrid:

"Our study has sequenced 20 whole mitochondrial genomes and utilized next generation sequencing to obtain 3 whole nuclear genomes from purported Sasquatch samples. The genome sequencing shows that Sasquatch mtDNA is identical to modern Homo sapiens, but Sasquatch nuDNA is a novel, unknown hominin related to Homo sapiens and other primate species. Our data indicate that the North American Sasquatch is a hybrid species, the result of males of an unknown hominin species crossing with female Homo sapiens.

Hominins are members of the taxonomic grouping Hominini, which includes all members of the genus Homo. Genetic testing has already ruled out Homo neanderthalis and the Denisova hominin as contributors to Sasquatch mtDNA or nuDNA. "The male progenitor that contributed the unknown sequence to this hybrid is unique as its DNA is more distantly removed from humans than other recently discovered hominins like the Denisovan individual," explains Ketchum.

"Sasquatch nuclear DNA is incredibly novel and not at all what we had expected. While it has human nuclear DNA within its genome, there are also distinctly non-human, non-archaic hominin, and non-ape sequences. We describe it as a mosaic of human and novel non-human sequence. Further study is needed and is ongoing to better characterize and understand Sasquatch nuclear DNA."

Ketchum is a veterinarian whose professional experience includes 27 years of research in genetics, including forensics. Early in her career she also practiced veterinary medicine, and she has previously been published as a participant in mapping the equine genome. She began testing the DNA of purported Sasquatch hair samples 5 years ago.

Ketchum calls on public officials and law enforcement to immediately recognize the Sasquatch as an indigenous people:

"Genetically, the Sasquatch are a human hybrid with unambiguously modern human maternal ancestry. Government at all levels must recognize them as an indigenous people and immediately protect their human and Constitutional rights against those who would see in their physical and cultural differences a 'license' to hunt, trap, or kill them."

Full details of the study will be presented in the near future when the study manuscript publishes.

###

Dr. Ketchum is available for interview or to answer further questions about the Sasquatch genome study and associated research on novel contemporary hominins at media@dnadiagnostics.com
Dr. Melba S. Ketchum
Director
DNA Diagnostics
P. O. Box 805
Garrison, TX 75946


E-mail: msketchum@dnadiagnostics.com
•••••••••••••••••••••••••••••••••••••••••••••••••••••••••••••••••••••••••••••••••••••••••••••••••••••••••••••••••••••••••••••••••••••••••••••••••••••••••••••••••••••••
11/23-New Bigfoot Blog-Update-Bigfoot DNA Project/The World is about to Change!!:http://www.nabigfootsearch.com/bigfootblog.html
11/21-Bigfoot Spotted in England-http://www.kentnews.co.uk/news/britain_s_bigfoot_spotted_in_tunbridge_wells_1_1699895
11/18/12-Retired Navy Crypto Linguist Scott Nelson-Before Its News-http://beforeitsnews.com/beyond-science/2012/11/bigfoot-voice-recorded-by-navy-crypto-linguist-near-kansas-city-2439942.html
11/16- This is a 1950's segment of "One Step Beyond", titled, "Night of the Kill." It is about a small boy that disappears from his rural home. Pay special attention to where the boy is found, the description, odor and size. http://www.youtube.com/watch?v=2Jh_TkJTFxE&feature=related
10/30-Russian DNA Results on Purported Sasquatch Hair Samples-http://www.dailymail.co.uk/news/article-2225276/Yeti-latest-Russian-scientists-say-DNA-tests-hair-samples-existence-man-like-mammal.html
10/25-Spike TV Offers 10 Million Dollar Bounty for a Bigfoot-http://www.spike.com/articles/xpekll/bigfoot-bounty-the-10-million-dollar-bigfoot-bounty-is-on
10/23-East Texas Bigfoot Sighting:http://www.kltv.com/story/19876849/photographer-snaps-possible-texas-bigfoot-shots
10/6-Sasquatch Sighting by Canadian Berry Pickers-http://www.cbc.ca/news/offbeat/story/2012/10/04/north-sasquatch-sighting-nunavik.html
9/29-David Paulides' Interview with Ted Torbich about "Missing 411."-http://irnfiles.com/audio/StenchOfTruth_David_Paulides.mp3
9/28-Tonight on Channel H2-Bigfoot is an Alien on- "Ancient Aliens"-http://www.history.com/schedule/h2/
9/28-Excellent Video Presentation by NABS Researcher Scott Carpenter-http://www.nabigfootsearch.com/bigfootvideo.html
9/28-New Bigfoot Encounter Report By Investigator Richard Hucklebridge-http://www.nabigfootsearch.com/Bigfootsightings.html
9/24-Article about Bigfoot Researchers:http://beforeitsnews.com/paranormal/2012/09/significant-contributors-to-bigfoot-research-2443268.html
9/14-A Very good article about the future of the crypto world-http://mysteriousuniverse.org/2012/09/the-future-of-cryptozoology/
9/9-Scientists explain how cloaking is possible and possibly being used today-http://www.technologyreview.com/view/424682/first-demonstration-of-time-cloaking/
9/8-Wunnumin Lake Bigfoot Family-http://www.wawataynews.ca/archive/all/2012/9/6/wunnumin-lake-s-mysterious-bigfoot-family_23409
9/4-David Paulides will be Speaking at the September Meeting of the Phoenix MUFON Conference-http://www.phoenixmufon.com
9/3-New Book Review- Missing 411- One Persons Opinion-http://www.messagetoeagle.com/missing411.php
8/28-New Sighting Report by NABS Investigator Richard Hucklebridge-http://www.nabigfootsearch.com/Bigfootsightings.html
8/18-Is Bigfoot a Possible Alien Entity-http://beforeitsnews.com/paranormal/2012/08/is-bigfoot-possibly-an-alien-entity-2-2442680.html
8/17-David Paulides' interview with Whitley Strieber regarding "Missing 411," on Dreamland Radio-http://www.unknowncountry.com/dreamland/even-more-unexplained-disappearances
8/14-A very interesting U-Tube about the physical appearance of Neanderthals-http://www.youtube.com/watch?v=mZbmywzGAVs&fb_source=message
8/7- Sex with Early Mystery Species of Human seen in DNA-Good Article-http://seattletimes.com/html/nationworld/2018783144_humans27.html
8/4-Video Interview of a Witness who saw a Bigfoot in the Cuberant Basin/Fish Lake, Utah-http://www.youtube.com/watch?v=cF7YODpIF2g&feature=share
8/3-New Site to Monitor, Bigfoot Sounds, Scott Nelson:http://www.bigfootsounds.com/experts-point-of-view/r-scott-nelson/
7/30-New Encounter Report on the Klamath River near Weitchpec, CA:http://www.nabigfootsearch.com/Bigfootsightings.html
7/29-New Bigfoot Incident Report:http://www.nabigfootsearch.com/Bigfootsightings.html
7/12-Interesting article about John Mionczynski, NABS has compared notes with him, fascinating guy:http://wyofile.com/2011/09/john-mionczynski/
7/10-The BLM has apparently produced a video about bigfoot. They use horrible costumes but their message is interesting. It's amazing they produced this....:http://www.youtube.com/watch?feature=player_embedded&v=qbdePcUn8I4#
7/8-A review of David Paulides' interview on Coast to Coast Radio of June 24-http://afutureghost.blogspot.com/2012/07/david-paulides.html
7/6-Very Interesting New NASA Discovery-Portals-http://www.thebunsenburner.com/news/hidden-portal-found-in-earths-magnetic-field/
7/6-New Sighting Report, Inyokern, Ca-http://www.nabigfootsearch.com/Bigfootsightings.html
7/5-Excellent work by Scott Carpenter exposing the face on the Paul Freeman Footage from Washington: http://bf-field-journal.blogspot.com/
7/3- True Believers: People of all types are certain they have encountered Sasquatch- Good Article:http://sportsyakima.com/2012/07/trues-believers-people-of-all-types-are-certain-they-have-encountered-sasquatch/
7/3-Scientists to Search for Chinese Bigfoot (Yeren)-Two Articles on Same Topic-http://news.mongabay.com/2012/0702-hance-shennongjia-expedition.html- http://au.news.yahoo.com/world/a/-/world/14119351/scientists-search-for-chinese-bigfoot/-
6/24-New Video Added-Nevada's Red Headed Giants-http://www.youtube.com/watch?v=Rg8a2baHNaI&feature=relmfu
6/17-New Sightings Report by Investigator Richard Hucklebridge-Vermont-http://www.nabigfootsearch.com/Bigfootsightings.html
6/16-Great old Movie called "Mysterious Monsters" Hosted by Peter Graves, Worth the Watch, Specifically Watch Peter Hurkos' Segment- http://www.youtube.com/watch?v=jj
6/14-Bigfoot Lives in Russian Tundra-http://newsfeed.time.com/2011/10/11/scientists-95-sure-bigfoot-lives-in-russian-tundra/#ixzz1xhlSfnB6
6/9- Mark Your Calendar-David Paulides will be on Coast to Coast with George Knapp, for another Epic- 4 Hour Show, June 24 starting at 10pm Pacific Time/Missing 411-Part 2 on Unusual Disappearances-http://www.coasttocoastam.com/show/2012/03/25
6/9-New Web Page- "Vanishing Bigfoot"-A Paper Presented on unusual anomalies associated with the biped, Author/Researcher-Sharon Cornet-http://www.nabigfootsearch.com/vanishing_bigfoot.html

6/7-Is Bigfoot An Alien/Huffington Post Article:http://www.huffingtonpost.com/dr-franklin-ruehl-phd/is-bigfoot-possibly-an-alien_b_1578844.html
6/5- Attitudes expressed by a few law enforcement officers are the reason many witnesses never come forward. Congrats to these Navajo Rangers for handling sensative issues in a respectful fashion- good video-http://bf-field-journal.blogspot.com/2012/06/navajo-rangers-investigate-bigfoot-ufos.html
6/3-Interview with David Paulides for CBS-KMOX St Louis Regarding Missing 411-http://stlouis.cbslocal.com/
6/2- How creatures in the wild sometimes appear to vanish in front of your eyes, great video-http://news.yahoo.com/octopuses-themselves-invisible-video-143100360.html
5/31- News report on Possible Sighting in Pocatello-http://www.localnews8.com/news/31132648/detail.html
5/30-New film about the PG footage about to be released, you be the judge....:http://www.grendelfilms.org/final.wmv
5/16-MLB Pitcher Believes in Bigfoot-http://www.foxsportsnorth.com/05/16/12/Swarzak-on-Sasquatch-I-believe-theyre-re/landing_twins.html?blockID=729860
5/4-David Paulides on Prime Time News/CBS- Las Vegas Explaining Missing People-http://www.8newsnow.com/story/18150329/i-team
4/25-All Bigfooters Should Read This Interesting Offer-http://fayfreethinkers.com/forums/viewtopic.php?f=11&t=6696
4/19-An interesting article about witness testimony that Pterosaurs still live-http://www.laattorneyvideo.com/nonlegal/pterosaurs/
4/17-Watch this recently released You-Tube review of "The Hoopa Project" & "Tribal Bigfoot"-http://www.youtube.com/watch?v=-eNjVzZP5kg
-4/17-New Sighting Report-http://www.nabigfootsearch.com/Bigfootsightings.html
4/16-Interview with David Paulides Regarding "missing 411", http://www.examiner.com/paranormal-in-panama-city/interview-with-david-paulides-on-missing-411-eastern-united-states-the-sequel
4/11-David Paulides' Interview on Whitley Strieber's "Dreamland" Radio-http://www.unknowncountry.com/dreamland/too-many-people-are-missing-story-behind-story
4/6-Watch David Paulides On CBS-KOVR- "Good Day Sacramento" Talking about Missing People and his NEW Book, "Missing 411"-http://gooddaysacramento.cbslocal.com/video/6912828-missing-411/
3/25-New Article about Missing 411-http://www.thedailytimes.com/Local_News/story/Bigfoot-authority-takes-on-Park-disappearances-id-022024
3/25-Park Service is Hiding Report Calling for More Scientific Approach to Park Management-http://www.prnewswire.com/news-releases/nps-retirees-national-park-service-is-hiding-report-calling-for-more-scientific-approach-to-park-management-75037172.html
3/18- Modern Day Marine reptile-Very Odd-http://blogs.scientificamerican.com/tetrapod-zoology/2012/03/08/carcass-large-modern-day-marine-reptile/
3/15-Red Deer Cave-Possibly a New Human Species-http://lightyears.blogs.cnn.com/2012/03/15/red-deer-cave-people-possibly-a-new-human-species/
3/14-New Blog-An open Perspective-http://www.nabigfootsearch.com/bigfootblog.html
3/7-
Nguoi Rung, Vietnamese Forest People, Wildman: mythical or missing ape-Interesting article-
http://coombs.anu.edu.au/~vern/wildman.html
3/7- Mark Your Calendars- David Paulides will be on "Coast to Coast AM" with George Knapp, March 25, 10pm-1am, 3 Hours discussing His new Book, "Missing 411", The Book Will Be Discussed in Detail-

http://www.coasttocoastam.com/pages/george-knapp

, Here is a listing of David's past "Coast to Coast Shows Appearances

-http://www.coasttocoastam.com/guest/paulides-david/7318
2/27-David Paulides will be Appearing on Coast to Coast Radio with George Knapp on March 25 Discussing David's new book
2/15-Take the Bigfoot Behavior Poll-http://www.nabigfootsearch.com/bigfoot_behavior_poll.html
2/11/12- If you ever believed that the news wasn't manipulated or censored, watch this-http://www.youtube.com/watch?v=NDNyIhWXsJ0
2/7-New List of NABS' public Appearances-http://www.nabigfootsearch.com/upcomingevents.html
1/22-New You Tube Added-A Retired Teacher Describes His Encounter With a Bigfoot-http://www.californiabigfootsearch.stirsite.com/bigfootvideo.html
1/22-Blog#116-Summer Camps & Rural Schools-http://www.californiabigfootsearch.stirsite.com/bigfootblog.html
1/18-Ohio Article- 5 Things You Need to Know About Bigfoot-http://www.cantonrep.com/newsnow/x255289471/5-things-you-should-know-about-finding-Bigfoot
1/14-An 1800's Yowie Hunting Story-http://weirdaustralia.com/2012/01/12/bigfoot-huntings-not-so-new-meet-australias-19th-century-yowie-hunters/
1/6-Time Cloaking, It's Possible!!-http://news.yahoo.com/now-see-now-dont-time-cloak-created-184955175.html?mid=572416
1/3-"Nature" Journal-DNA from an unknown hominin from Southern Siberia-http://www.nature.com/nature/journal/v464/n7290/full/nature08976.html
12/30-Good Article on Infrasound-http://www.msnbc.msn.com/id/3077192/#.Tv6gXFaLOyY
12/27-Yeti Finger DNA Results-http://www.bbc.co.uk/news/science-environment-16264752
12/23-A GREAT Video about a human-gorilla meeting in Uganda-http://www.huffingtonpost.com/2011/12/22/gorillas-pet-tourist-in-u_n_1165365.html?0&icid=maing-grid7|main5|dl4|sec1_lnk3&pLid=122376&mid=55
12/22-A Presidential Link to Bigfoot, A Believable Story-http://thechurchofufology.blogspot.com/2011/12/presidential-bigfoot.html
12/21- An Opinion on "Finding Bigfoot"-http://www.themadskeptic.com/2011/12/finding-bigfoot-not-worth-your-time.html
12/1- New Photoshop Detector Will Show Where Images were Altered, Goodbye Hoaxers!!-http://shine.yahoo.com/fashion/photoshop-detector-shows-where-images-altered-192200239.html
11/30- The Taking of a Bigfoot Specimen-http://www.nabigfootsearch.com/bigfootblog.html
11/30-Ravens Communicate Better Then Most in Wild Kingdom-http://www.alaskadispatch.com/article/study-ravens-communicate-better-most-animal-kingdom#.TtW9K0OT-Xd.facebook
11/26-Great Story of a Wild Man captured in 1839-http://www.bigfootencounters.com/stories/captured_wildman1839.htm
11/9- Television station KTEN in OK televised this two part series about bigfoot in Honobia with a great interview with Charles Branson, a retired Ranger.
Part 1-http://www.youtube.com/watch?v=tQSoetOv0bw......Part 2-http://www.youtube.com/watch?v=FrYlMKAa1Og
11/4- DNA Project Update frpm Dr. Ketchum-http://www.nabigfootsearch.com/bigfootblog.html
10/25- A Report on the Russian Conference-http://online.wsj.com/article/SB10001424052970203752604576640963633300254.html?mod=WSJ_Ahed_LEADTop
10/21-The Solution for Blurry Bigfoot Photos-New Technology-http://www.sfgate.com/cgi-bin/article.cgi?f=/c/a/2011/10/21/BU6S1LJOO3.DTL
10/17- Overview of Russian Conference & Yeti in Russia-http://rt.com/news/yeti-siberia-science-footprint-421/
10/10--Siberian Region Confirms Yeti Exists-http://www.physorg.com/news/2011-10-siberian-region-yeti.html
10/7- David Paulides & Scott Nelson talk About Bigfoot Being Human- Not An Ape- Taped at the 2011 Honobia Conference:http://www.nabigfootsearch.com/bigfootvideo.html
10/7- New Bigfoot Blog- Call Blasting-http://www.nabigfootsearch.com/bigfootblog.html
9/23- Neutrinos May Travel Faster Then the Speed of Light, Changing the Laws of Physics:http://news.yahoo.com/strange-particles-may-travel-faster-light-breaking-laws-192010201.html
9/23- Hair Samples Used to Show Aboriginal Migration:http://www.sciencemag.org/content/333/6050/1689
9/6- U.S. Government document reveals that the U.S. took the topic of "Yeti" seriously-http://www.nabigfootsearch.com/Bigfootdisclosureproject.html
8/27-Bigfoot Tracks May not be from Bigfoot Says Expert-http://www.duluthnewstribune.com/event/article/id/207804/
8/24-National Geographic Article- 86% of Earth's Species Still Not Identified-http://news.nationalgeographic.com/news/2011/08/110824-earths-species-8-7-million-biology-planet-animals-science/
8/15-Blog #112-Censorship by the National Park Service-http://www.nabigfootsearch.com/bigfootblog.html
8/12-Whale Likes The Klamath River/ Bigfoot Country-http://www.grindtv.com/outdoor/blog/29520/hospitality+not+lacking+as+whales+klamath+river+stay+reaches+50+days/
7/28-An old Interview with Rene Dahinden from CBC Canada, A Unique Insight Into a Determined Man-http://archives.cbc.ca/lifestyle/pastimes/topics/1462-9705/
7/27- David Paulides/NABS will be Presenting at the Oklahoma Conference:http://www.nabigfootsearch.com/upcomingevents.html
7/27-A Mountain Lions Amazing Journey-http://www.middletownpress.com/articles/2011/07/26/news/doc4e2f1341de52f489437623.txt?viewmode=fullstory
7/23-Blog #111- Setting the Record Straight...Again-http://www.nabigfootsearch.com/bigfootblog.html
7/22-Dr. Ketchum's DNA Report, A Straight View of the Facts-http://rwridley.wordpress.com/2011/07/19/the-ketchum-report/
7/21-Oklahoma Bigfoot Part 2- A Retired US Forest Ranger States the biped has human traits-http://www.kten.com/story/15119809/2011/07/21/sasquatch-oklahomas-bigfoot-part-2
7/19-KTEN TV-Oklahoma's Bigfoot- Part One-http://www.kten.com/story/15111820/2011/07/20/sasquatch-oklahomas-bigfoot
7/19-Article- Explaining that our ancestors walked like an ape but walked like a man-http://news.yahoo.com/ancestor-climbed-ape-walked-man-000204077.html
7/18-Interesting article about sightings in Illinois-http://www.sj-r.com/ourtowns/chatham/x121481200/Messing-with-Sasquatch-may-not-be-such-a-good-idea
7/16- CNN Article about Giza-http://www.cnn.com/2011/WORLD/africa/05/28/pyramid.markings/index.html
7/16-Fascinating Story at Giza starting to emerge-http://www.ufodigest.com/article/something-big-going-giza
7/14-New Bigfoot Blog- No Worries!!-http://www.nabigfootsearch.com/bigfootblog.html
7/12-Chinese "Yeren" in the news-http://inventorspot.com/articles/chinas_bigfoot_leaves_big_footprints_chinese_cornfield
7/6-Washington State Hikers Need to Be Cautious-http://news.yahoo.com/photo-confirms-grizzly-washingtons-n-cascades-202349102.html
6/29-Interesting Story of Bigfoot in the Trinity River near Hoopa, Matches behavior we have identified in our books-http://treepeekers.wordpress.com/
6/27-Bigfoot DNA Project Update-http://www.nabigfootsearch.com/bigfootblog.html
6/25- NABS in the News-http://indiancountrytodaymedianetwork.com/2011/06/looking-for-bigfoot-in-indian-country/
6/23- Great Information for People visiting the woods or hiking-http://www.larimer.org/news/newsDetail.cfm?id=1096
6/16- New web page- NABS Team Members-http://www.nabigfootsearch.com/nabs_team_members.html
6/13-Good Article about Shapes and Designs Made by Sasquatch-http://www.associatedcontent.com/article/8103489/arkansas_bigfoot_encounter_pg4.html?cat=58
5/27-Smithsonian Article on Black Bears and how to defend yourself-http://blogs.smithsonianmag.com/science/2011/05/how-to-avoid-being-eaten-by-a-black-bear/
5/27-Possible Spokane River Sighting in short video-http://www.inlander.com/spokane/blog-3342-video-spokane-river-bigfoot-sighting_.html
5/27- Park Ranger Reports sighting at 13,000 feet in Colorado, interesting report-http://www.krdo.com/news/28011224/detail.html
5/27-Theoretical Physicist Dr. Michio Kaku of the University of NY gave a keynote speech at the Global Competitiveness Forum in Riyadh, Saudi Arabia on 1/23/11, the issues that he addressed were fascinating, http://www.youtube.com/watch?v=35JWz2MzEC0&feature=share
5/20-This is a great presentation on the discovery of the Hobbit bones, presented online by NOVA-http://xfinitytv.comcast.net/tv/Nova/9993/1601290201/Alien-from-Earth/videos?cmpid=FCST_hero
5/19-New Product- NABS Mousepad- Requested by 5 Different visitors, we've got it!!http://www.nabigfootsearch.com/catalog/item/6180213/8816898.htm
5/13-An Interview with Harvey Pratt, An OSBI Legend-http://www.youtube.com/watch?v=oT6TWEXgdag
5/2- A New Species Identified in Sumatra???-http://www.scientificexploration.org/edgescience/edgescience_07.pdf
4/28-New Habituation Field Report-http://www.nabigfootsearch.com/Bigfootsightings.html
4/26- New Blog- Native Americans and First Nations People-http://www.nabigfootsearch.com/bigfootblog.html
4/14-Radio Show Cancelled for Tonight, Host is Sick
4/11- New Blog- Base of Knowledge-http://www.nabigfootsearch.com/bigfootblog.html
3/30- David Paulides will be on "Face to Face"-AM1650- See link for more info:http://www.nabigfootsearch.com/upcomingevents.html
3/21-New Wolfe Discovered-http://www.sciencedaily.com/releases/2011/01/110126171446.htm
3/7-Interesting video of a bear scratching his back on a tree and then destroying a game camera;http://www.youtube.com/watch?v=wQn-SQnMPwY&feature=relmfu
3/2/11- Bakers Creek-This is a very good video of a face of a biped-http://www.nabigfootsearch.com/bigfootvideo.html
2/27- New Bigfoot Blog- Response to DNA Question-http://www.nabigfootsearch.com/bigfootblog.html
2/19-NABS Article-Triplicate Newspaper-http://www.triplicate.com/20110218111480/News/Local-News/The-smoking-gun
2/17- New Web Page- Bigfoot DNA-http://www.nabigfootsearch.com/bigfoot_dna.html
2/3-Book Review- The Forest People-http://www.nabigfootsearch.com/Bookreview.html
1/27-A very interesting behavior that a gorilla has learned:http://www.msnbc.msn.com/id/21134540/vp/41294510#41294510
1/25- That Wyoming Monkey, Oct 6, 1895-http://www.nabigfootsearch.com/bigfootblog.html
1/19- Great Story on Bigfoot Encounters-http://www.bigfootencounters.com/stories/doug.htm
1/18- Interesting Blog Regarding the Skookum Cast-http://www.thomsquatch.com/
1/2- Congratulations to Harvey Pratt- Placed into the OSBI Hall of Fame!!-http://www.ok.gov/osbi/Press_Room/2010_Press_Releases/PR-2010-12-22__OSBI_ANNOUNCES_INCEPTION_OF_HALL_OF_FAME.html
1/2- 1/2- Humans and Animals at the Divide- The Case of Feral Children-http://cla.calpoly.edu/bts/issue_03/03steeves.htm
1/2- Very Good Article- "The Phenomenology of Bigfoot- http://74.125.155.132/scholar?q=cache:XvSu8mSUGakJ:scholar.google.com/+H.+Peter+Steeves+philosophy&hl=en&as_sdt=400000000000
12/29- Bigfoot Blog #105, Public Ridicule & Killing a Bigfoot-http://www.nabigfootsearch.com/bigfootblog.html
12/27- Evidence of Early Man Found in Israel-http://www.bbc.co.uk/news/world-middle-east-12084496
12/24- Elusive and Rare Cheetah Captured on Game Camera- http://news.yahoo.com/s/livescience/20101224/sc_livescience/elusivesaharancheetahcapturedinphotos
12/1- Recent Article About Bigfoot Sightings in OR & CA-http://www.examiner.com/outdoor-living-in-eugene/bigfoot-sightings-return-to-eugene-california-and-alarm-residents
11/29- The Hoopa Project- Best Bigfoot Book- What Happened to Tribal???-http://s2.excoboard.com/exco/archive.php?ac=t&forumid=125336&date=05-21-2009&t=2020986-1
11/29- Yeren Article on Hair Analysis-http://china.globaltimes.cn/top-photo/2010-11/595939.html
11/28- The Yeti Road-http://www.hindustantimes.com/Road-through-yeti-territory-excites-locals/Article1-632099.aspx
11/27- One Mans Opinion- A Good Article-http://www.hairygiants.com/2010/01/comparison-of-gigantopithecus-and.html?spref=fb
11/17- The Site Store will be closed until 11/25/1011/17- New Blog- "The Wild Family"- http://www.nabigfootsearch.com/bigfootblog.html
11/13- A Report Written by Ray Crowe on Zana and bigfoot DNA, Submitted to NABS 11/13/10-http://www.nabigfootsearch.com/Guestcolumnist.html
11/5- New Blog- Genetic Variance & Observation Points- http://www.nabigfootsearch.com
•••••••••••••••••••••••••••••••••••••••••••••••••••••••••••••••••••••••••••••••••••••••••••••••••••••••••••••••••••••••••••••••••••••••••••••••••••••••••••••
"Everyone has a right to their own opinion, but no one has a right to be wrong about the facts. Without the facts, your opinion is of no value."
Rene' Dahinden, August 1999
•••••••••••••••••••••••••••••••••••••••••••••••••••••••••••••••••••••••••••••••••••••••••••••••••••••••••••••••••••••••••••••••••••••••••••••••••••••••••••••

Welcome to the most professional Bigfoot research organization in the world.


We are dedicated to investigating all aspects of the Bigfoot/Sasquatch/Wild Man phenomena.


We are a group of seasoned researchers and investigators. We are committed to maintaining scientific principles in all aspects of our research.

Our goal is to obtain the confidence of the local community, gather as many witness sightings as possible and couple that with extensive field work and technically oriented surveillance, evidence gathering and follow-up modeling.

If you have information about Bigfoot/Sasquatch/Skunk Ape/Yeti in your area, we are interested in hearing directly from you. It's unimportant where in the North America your sighting occurred or if there were additional witnesses. It does matter if you took notes and preserved evidence immediately after your sighting. Attempt to document as much information as possible before it escapes your recollection.
All information that you forward to the North America Bigfoot Search is held as confidential and we do not sell, forward or pass on any personal information that we receive through our website. Our organization has professional researchers that have spent countless hours in the known Bigfoot hot spots of the world (Bluff Creek, Siskiyou County, Del Norte County, Skamania County, Humboldt County, Trinity County, regions of the Klamath and surrounding areas, Texas, Oklahoma, Minnesota, etc).
We encourage everyone to conduct their own investigation into various Bigfoot organizations and groups. Ask the tough questions:
How long do they stay in a community?
How many full time researchers are on staff?
How much do they have invested in technical equipment?
Are they readily available and professional?
Can they be on your site in a reasonable time period?
Have they aligned themselves with academic professionals?
Do they have the resources and full time staff to undertake a large investigation? Do people on their staff change sighting reports after they are submitted by a field researcher?

Mission Statement
The mission of the North America Bigfoot Search is to document the sightings,incidents, habitat, physical characteristics, migratory paths and other pertinent information of the biped we know as Bigfoot/Sasquatch/wild man. The accumulation of evidence and documentation will be accomplished through non-life threatening means and this information will be bound and presented to state/ federal legislators and made available to the public with the possible goal of authoring laws for the protection of the hominid and legal acknowledgement of its existence.


**Thanks to Harvey Pratt for the outstanding sketch that appears at the top right of our website.
©2011 North America Bigfoot Search LLC